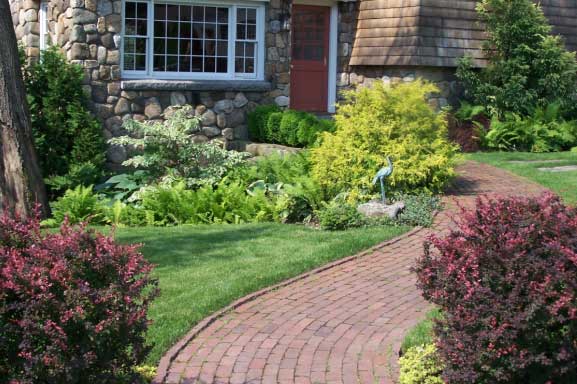 Ciminelli's Landscape Services, Inc. creates stunning walkways that tie into your landscaping and hardscaping projects. We use the same materials in your walkway as in your patio or deck for a cohesive look. There is a range of walkway designs to chose from in a variety of materials and to fit all budgets.
A walkway should accent your landscaping and encourage guests to explore, leading them to interesting features like gardens, indoor kitchens or ponds. Walkways can be made of a variety materials like pavers, flagstone, or eco-materials. Ciminelli's Landscape Services, Inc. also installs lighting to illuminate your walkway at night.
We select quality products for your walkway design that are suitable for the mid-Atlantic region. Ciminelli's Landscape Services, Inc. is a pioneer in eco-scaping and we use a number of sustainable materials and methods to create a walkway that is environmentally friendly, functional and good looking.
Ciminelli's Landscape Services, Inc. is a certified Belgard contractor and Interlocking Concrete Paver Institute and National Concrete Masonry Association certified. We install all of our walkways with craftsmanship and attention to detail to ensure a long lasting and beautiful addition to your outdoor living.