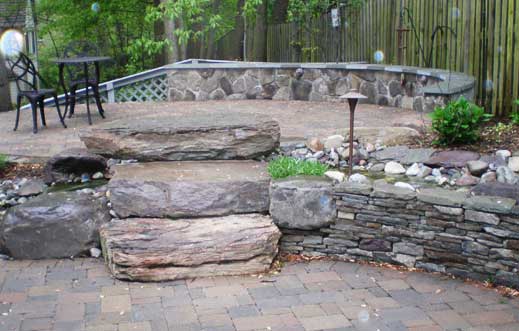 Rain gardens allow rain to slowly penetrate the soil as opposed to quickly running off into storm drains, carrying pollutants and particles into our creeks, rivers and the Chesapeake Bay. Rain gardens are designed to use an existing low spot in the landscape. If one doesn't exist, we create a depression, and use a special soil mix, then install moisture loving and native plants that can withstand both wet and dry conditions.
In 2009, Ciminelli's Landscape Services, Inc installed five rain gardens on the campus of Anne Arundel Community College near the storm drains. These rain gardens have beautified the area and captured thousands of gallons of water instead of sending runoff straight into the Chesapeake Bay. Their project was supported by a grant from the Chesapeake Bay Trust which is dedicated to improving water quality in the Chesapeake Bay Region.
Ciminelli's Landscape Services, Inc has also installed many rain gardens at residences around the Annapolis region. Almost every home owner, business owner and resident could incorporate storm water management practices with rain barrels, drainage systems, rain gardens and native plants to make an enormous positive impact on our water quality.
Compared with a conventional patch of lawn, a rain garden allows about 30% more water to soak into the ground. Rain gardens are important because they:
Increase the amount of water that filters into the ground, replenishing aquifers
Protect properties from flooding and drainage problems
Protect waterways from pollutants in storm water run-off
Enhance the beauty of a yard
Provide a habitat for birds, butterflies and beneficial insects
Ciminelli's Landscape Services, Inc designs Rain Gardens so that they function properly and are not too close to your house or septic system and receive the proper amount of sunlight. We also make sure that our rain gardens are an attractive addition to your landscape. We choose native plants that have varying height and texture, blooming at different times, giving your rain garden depth and dimension.
Maintaining your rain garden is easy – you can choose to maintain the rain garden yourself or select Ciminelli's for year round maintenance. Rain gardens can be created in all sizes and budgets.